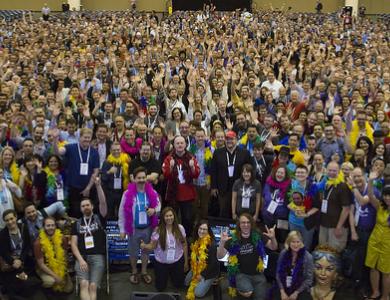 Once a year, Drupal developers and users from around the world gather in North America for DrupalCon. Again this year, I was one of many (more than 3,000) who traveled to New Orleans for a week of training, networking, and inspiration. DrupalCon New Orleans did not disappoint.
After a couple of years of anticipation, we were finally able to celebrate the recent release of Drupal 8 which offers users a better interface and developers a more modern code base. It was exciting to see how quickly Drupal 8 is being adopted by both large and small organizations as they upgrade their websites.
During DrupalCon New Orleans we also had a tongue-in-cheek ceremony to mourn the end of life for Drupal 6. Now that Drupal 8 has been released, Drupal 6 will no longer be in active development. Although websites built with Drupal 6 will continue to function, there will be limitations to how those sites are maintained.
After a week full of training sessions and discussions with other developers, we have returned inspired to create dynamic websites for our clients. We are actively looking for clients considering a move to Drupal 8. If you have an upcoming project, contact DSquaredB Consulting today.