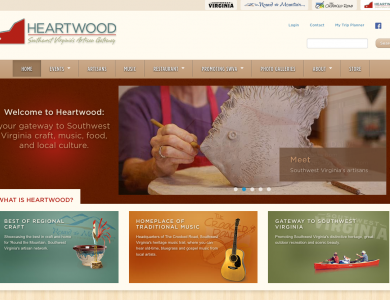 DSquared-B Consulting in partnership with Two Rivers Media, launched mySWVA.org, a unified website for three organizations under the banner of Friends of Southwest Virginia. 'Round the Mountain represents the artisans of the Southwest Virginia region, The Crooked Road represents the musicians of the region, and mySWVA.org highlights the cultural, historic, and outdoor venues and activities. These three sites share a common database, structure, and domain (http://myswva.org), but maintain each organization's identity and access through their individual URLs.
Recently, we launched a fourth section of the unified website for Heartwood. Heartwood, located in Abingdon, Virginia, provides a venue to display the work of the region's juried artisans and musicians and offers visitors a glimpse into the outdoor recreation and scenic vistas of Southwest Virginia through interactive exhibits.
Visit the Heartwood section of the mySWVA.org website.